Videos
Get a glimpse of the innovative safety measures implemented by our teams in our production facilities. Also, our Food Safety Superheroes, Silver & Ware, remind everyone about the proper preventative measures needed to stop the spread of COVID-19.
Communications Kit
We know it can be hard to communicate all of the different guidelines and precautionary measures we all have to follow, so we're here to help. Our comprehensive communications kit makes it easy to convey what's important, and help people understand why they should care. Our most helpful tools are packaged up here for you, available in 10 languages.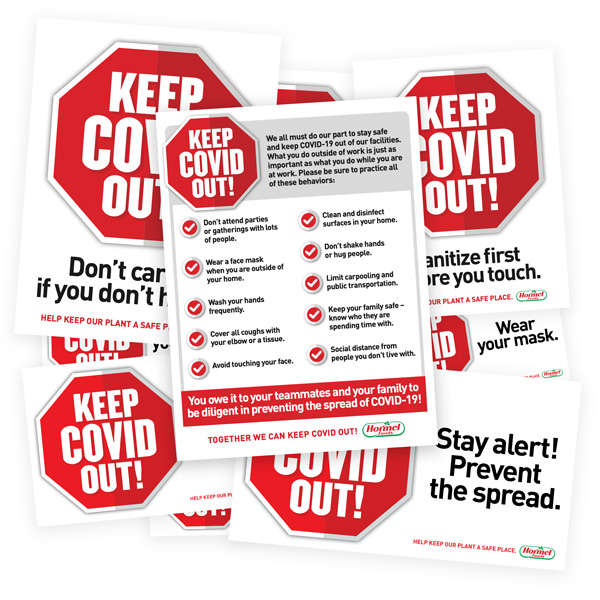 What's included in the communications kit:
20 posters with key reminders
20 PowerPoint slides for easy uploading to announcement monitors
KEEP COVID OUT! logo for easy customization of any materials
8.5"x11" and 30"x40" checklist poster to be placed at building exits
A set of materials specifically for offices
Handout detailing how to safely carpool
Handout detailing quarantine guidelines
Handout detailing proper mask wearing and care
Two-sided "How are you feeling?" handheld poster for entry checkpoint staff
Health screening poster for entrances
Get Involved
Are you using KEEP COVID OUT! to help your employees, members, customers or visitors? Let us know! We'd love to hear how you're making a difference in the fight against COVID-19 and how you're KEEPING COVID OUT! of your facilities, peoples' homes and our communities.
For media requests or inquiries, please contact media@hormel.com